Film Screening: Kabul, City in the Wind
November 18, 2021 - Thursday
Wednesday, 24th November 2021, 7.30pm + Q&A with the filmmakers via Zoom after the film.
Friday, 26th' November 2021, 9pm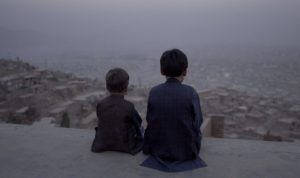 Afshin a 12-year old boy and his younger brother Benjamin live with their family at the hillside of the Chil Dokhtaran mountains, close to the first stop of the city bus. Grown-up next to the city full of bombs and sirens, violence has become a part of their innocence, and the graveyard their playground. When the father leaves for another country, an end comes to the childhood of Afshin. Abbas is a bus driver with a double personality, a loving father and a ruthless driver who blows all the time. The lengthy process of his multiple tempts to fix his broken bus reveals his way of living between truth and lies. Their stories will intermingle with the city scenes, passengers on the bus ride, to complete the symphonic portrait of the city. Without showing shocking scenes, the film portraits the soul of Kabul that is in agony.
The screening is a collaboration between the Spazju Kreattiv and the China Cultural Centre in Malta.
Director: Aboozar Amini (1985, Bamiyan, Afghanistan) moved to the Netherlands at a young age. His graduate film at LFS Angelus Novus (2015) was inspired by the drawing of Paul Klee but in today's life context premiered at IFFR and won various awards worldwide. His latest film Where is Kurdistan (2016) was commissioned by IFFR. His latest short fiction film Best Day Ever opened La Quinzaine at Cannes International Film Festival 2018.    
Producer: Jia Zhao 赵佳 (born in Chengdu China), a Chinese producer based in Amsterdam, founded MUYI FILM and SILK ROAD FILM SALON in 2012. She works with European and Asian producers/film directors and focuses on film productions with intercultural themes and international potential. Some of her recent works include: Kabul, City in the Wind by Aboozar Amin (Opening film IDFA2018, First Appearance Competition); Lady of the Harbour by Sean Wang (IDFA 2017, Dutch competition); The Crow is Beautiful (IDFA2017, Masters); Fallen Flowers Thick Leaves by Laetitia Schoofs (2016, in co-production with ARTE/ZDF, IDFA 2016, Dutch competition); Inner Landscape (2018) by Frank Scheffer; Where is Kurdistan? (2016, IFFR 2016) and Angelus Novus, IFFR 2015 by Aboozar Amini; Mr. Hu and the Temple by Yan Ting Yuen (2015, Dutch competition IDFA 2015).