Spring Festival Temple Fair returns at the Chinese Garden of Serenity in Santa Lucija
April 21, 2022 - Thursday
The Spring Festival Temple Fair features a rich panel of Chinese cultural performances and workshops, creating a unique and colourful experience for the Maltese audience to gain their own taste of Chinese culture.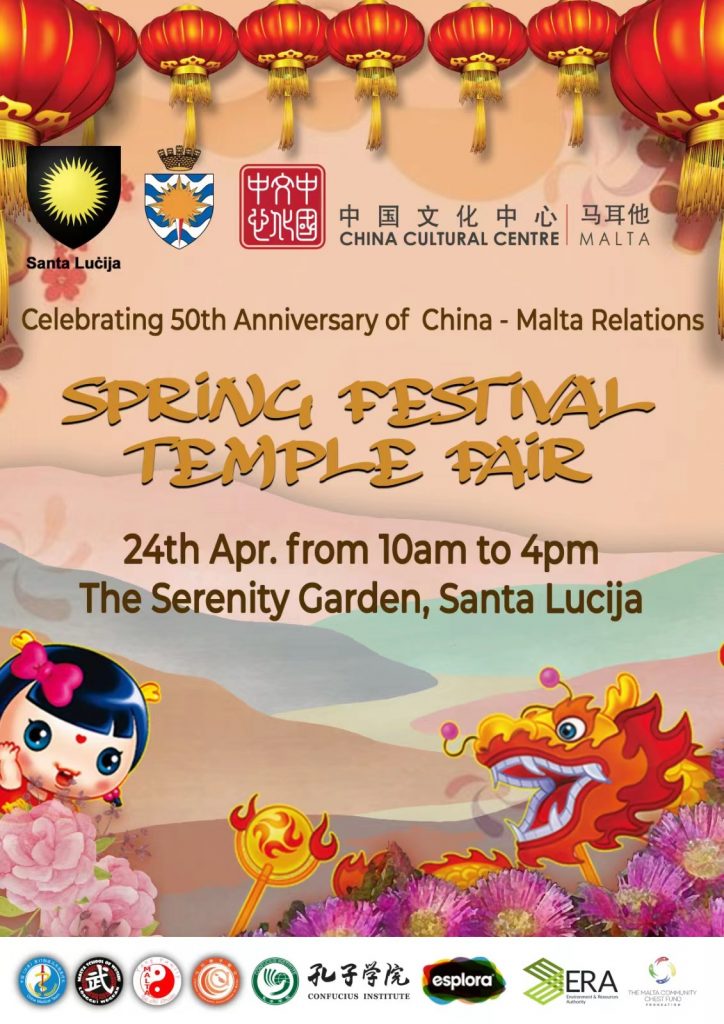 VALLETTA, April 11th – After two years of cancellation due to Covid-19 restrictions, the Spring Festival Temple Fair jointly organised by the China Cultural Centre in Malta and the local council of Santa Lucija will return on April 24th at the Chinese Garden of Serenity in Santa Lucija. During this day-long festival, children and families are welcome to discover Chinese culture through many colourful and fun cultural experiences where everyone can find something to their liking.
At the entrance, there will be a central stage where various Chinese Cultural performances including traditional Chinese dance, music, martial arts, Taiji, and clown show will be performed almost every hour. Other performances including Ghana will be shared with visitors as well. The Festival will be opened by a Chinese typical dragon dance performed by the Maltese team.
The Garden Area will offer cultural experience spaces and 6 different workshops to visitors. For example, during the Chinese calligraphy and painting workshops in the tea rooms, participants can discover their philosophy, learn to write the most popular Chinese characters, and use traditional Chinese painting methods to make artworks to take home. Music lovers have the opportunity to learn about traditional Chinese music instruments such as the Guqin (A plucked seven-string musical instrument) and Erhu (a two-stringed bowed musical instrument), and learn about the history and importance of traditional Chinese music. Visitors can also learn how to cut paper, make lanterns and many others during the traditional Chinese handicraft workshop. During the venue, visitors can have a walk at the cultural street offering 10 different stands with Chinese cultural services and goods.
In the Picnic Area and in the Sculpture Area, gourmets can enjoy Chinese and Maltese specialities at the different food counters. Children will find many play activities including pony rides, and thanks to the cooperation with Esplora, some scientific activities.
The previous Temple Fair was held during the Chinese New Year, also known as the Spring festival, which perfectly fits the current season, hence the name. The aim is to stimulate curiosity and interest in Chinese culture among Maltese audiences and to create a unique and rich experience where everyone can gain their own taste of Chinese culture. In addition to this, this year's Spring Festival Temple Fair is a special edition as it celebrates the 50th anniversary of the establishment of diplomatic relations between Malta and China.
The Spring Festival Temple Fair will be held on April 24th from 10 am to 4 pm with free admission and subject to Covid-19 safety measures.
PROGRAM OF SPRING FESTIVAL TEMPLE FAIR
On Stage:
10:00-10:05 舞龙舞狮 表演者马耳他武术学校
Dragon and Lion Dance by the Malta School of Wush—Longgui
10:05-10:10 主持开场及嘉宾致辞
Hosts opening
10:10-10:20 螳螂拳  表演者马耳他武术学校
Tanglang Quan Performance by the Malta School of Wush—Longgui
10:20-10:25 扬琴独奏 欢乐的新疆 表演者方冠冠
Happiness of Xinjiang Dulcimer by Fang Guanguan
10:25-10:30 独唱 自由与无畏 表演者莉亚布里法
To Be Free and Unafraid – Vocal Solo by Lea Briffa
10:30-11:00 Hosts to announce the ceremony at the picnic area  中场休息Intermission
11:00-11:15 独唱 表演者玛丽亚布里法
Vocal Solo by Marija Briffa
11:15-11:20 古琴演奏 欧鹭忘机表演者 王伟强
Ou Lu Wang Ji traditional Chinese instrument Guqin by Wang Weiqiang
11:20-11:25 杨氏太极拳高级版 表演者马耳他杨氏太极俱乐部 古筝伴奏 王伟强
Yang Family Taiji Senior Form by Malta Yang Family Taichi Quan Club (Guzheng accompaniment by Wang Weiqiang )
11:25-11:30 杨氏太极剑  表演者马耳他杨氏太极 古筝伴奏 王伟强
Yang Family Taichi Sword Form (Guzheng accompaniment by Wang Weiqiang )
11:30-12:00中场休息Intermission
10.12:00-12:30 合唱表演
Chorus by Joy Gospel Choir
11.12:30-12:35古典舞表演 燕无歇
Yan Wu Xie – Chinese Classical Dance by Wang Yuhan & Xiong Xing
12.12:35-12:45魔法气球 小丑互动 表演者姜富林
Clown Show "Magic Balloon"– by Jiang Fulin
12:45–13:05 中场休息Intermission
13.13:05-13:10 杨氏太极刀 古筝伴奏 王伟强
Yang Family Taiji Saber Form (Guzheng accompaniment by Wang Weiqiang)
14.13:10-13:13 永发拳 表演者马耳他杨氏太极 古筝伴奏 王伟强
Yong Fa Quan by Malta Yang Family Taiji(Guzheng accompaniment by Wang Weiqiang)
15.13:13-13:17 太极扇 表演者马耳他杨氏太极 古筝伴奏 王伟强
Taiji Fan Form Malta Yang Family Taiji (Guzheng accompaniment by Wang Weiqiang)
16.13:17-13:20小提琴独奏 新春乐 表演者张廷钰
Happy Spring Festival – Violin Performance by Zhang Tingyu
17.13:20-13:25独唱和吉他演奏 星辰大海 演唱 路易莎布哈贾 吉他演奏杰克库塔亚
Sea of Stars – Vocal by Louisa Buhagiar, Guitar by Jake Cutajar
18.13:25-13:30二胡演奏 金蛇狂舞 表演者崔添明
Erhu Solo Golden Snake Dancing by Cui Tianming
13:35–14:00 中场休息Intermission
19.Ghana 14:00 – 15:00
15:00–15:35 中场休息Intermission
20.15:35-15:40 独唱 Uptown Funk 表演者 尹依文
Vocal Solo Uptown Funk by Yin Yiwen
21.15:40-15:45 独唱 孤勇者 表演者 尹依文
Vocal Solo Lonely Brave by Yin Yiwen
22.15:45-15:50 古典舞 春三月 表演者 赵璟、喜希乐、赵菲
Spring in March – Chinese Classical Dance by Zhao Jing、Ceciel Rudant、Zhao Fei
15:50  The End
Ceremony for the 50th Anniversary of China – Malta Relations 10:30 -11:00
Chinese food by Asian Kingdom and Ninja from 11:30 onwards
GOG Bubble Tea from 11:30 onwards
Horse Police Show 10:00 till 12:00
Pony Rides 12:00 till 15:00
Stalls at Folk Sculpture Areas:
Chinese Medicine and other cultural products and service stalls 10:00 till 16:00
Esplora 12:00 till 15:00
 Workshops in Tea Rooms 10:00 till 16:00:
Room next to the pool: Chinese Character Exhibition (outside or inside the room), Chinese calligraphy and painting, Chinese Handicrafts
Room next to the back gate: Chinese Character Exhibition(outside or inside the room), Chinese Tea, Chinese Weiqi, Instruments and other games